back to the city of devils
Thursday was our first school day for 2007.
Obviously,
people were so hyper and makulet
, full of kwento and chismis. We were only gone for two weeks but it's like we have a year's worth of stories! I was so happy to finally see and talk to my friends again, in person. Somehow texting just isn't the same. And we're divided by our networks (Globe and Sun wars!! Haha) so, we weren't really on the same "planet" during our vacation. But with all the excitement comes the nervousness as well since the first few days after the exams are usually the dreaded
Checking Of Test Papers Day
. Yes, these are the days we always anticipate with horror. Upon the sight of the teacher with a bunch of test papers in hand, the apprehension begins. Hands holding red-inked pens are always shaking, and
faces are filled with anxiety
. The mood of everyone changes as the checking starts. Everyone is hungry for bonuses and pluses, and almost everyone reacts violently when the student called gives out the wrong answer. ("NO! Letter A kaya!!") Automatic yan. Finally, when the teacher says,
"Okay tally the score then return the paper to the owner,"
everyone stands up and eagerly waits for their paper to be given to them. Oh, that feeling of finally seeing your score in big red ink.. it's unexplainable. It can either make or break your day. And almost everyone will frantically search for corrections just to gain more points.
Every single point is like a gold bar to all of us.
It's true. Okay, so we're not really nerdy, geeky grade-conscious dweebs, but I'm just saying that believe or not these "big tests" (Periodic and Long tests) really
matter
to us. So there's no denying that we become greedy point-earners in this time of the quarter. But of course, at the end of the period, no matter how heartbreaking or heartwarming the results were, we just have to get over it because a new teacher is about to come in, and another cycle for another subject will begin. =)
So if you're wondering how my scores were, well they were
okay
. I know, I always say they're okay but that's because they really are. They're not perfect but I can say my late night studying paid off somehow. So, I guess,
OKAY
really is the term for it. Haha. =) HAHA. Anyhoo, Mrs. F showed us the percentage of our seatworks and quizzes this quarter, and I'm happy about it. At least nakabawi na ako somehow and I'm starting to like Algeb again! Especially now that we're discussing Trigonometry.. which is a little related to
Geometry
.. which is
my favorite subject of all-time
. Last Thursday, Mrs. F reviewed the angles and some basic geometric terms to us, and upon hearing the words
postulate
,
triangle
and
vertex
, I swear my heart skipped a beat! With all humility, Geometry is one of the few things I really like and I'm actually good at. I really miss it. I miss filling up the two-column proof, I miss my arguments with Mrs. Santos, I miss really analyzing circles and triangles just to prove theorems.
I miss all of it.
Somehow our discussion brought me and Geom together even for just a short while. Sigh.
Karla the kikay nerd.
(Where else can you see a girl so madly in-love with Geometry?! Shux, I'm weird.)
Anyway, another thing that made me really happy is CLE class. Our quarterly project is the
Bible Of My Life
. Each quarter Ms. Napoles assigns to us the topics under each "book." Example, Genesis, then under that you have your family tree, your parents' love story and your birth. And it goes on. The submission is always before the Periodic Test. I classify it as a "really hard work" project because it's not something you can do easily overnight. And though scrapbooking is not my thing, I get through. *wink, wink* Dinadaan ko na lang sa madrama kong mga writings. Haha. Okay so anyway, Ms. Napoles gave us the topics last Thursday but she surprised us with something different: we'll not be using our scrapbooks anymore, instead we would be
videotaping ourselves
and telling our answers to the camera. Sound familiar? That's because she got it from
ONE TREE HILL
. Does the
time capsule
ring any bells?! At first I was really hesitant, but when she told us she had the idea because of One Tree Hill, me and all the other addicts (
Cars
, Nikki, Meg, Nica -- my OTH best friends.. hehe) were like, "WAAAAH!" Haha.
Game na ko!
Anything OTH talaga. And now I'm actually kind of excited, I mean, no one's going to see me anyway (unless someone releases it like in the show! Then someone's secrets will be revealed then the next day.. okay, I think I should stop now) and I think it's more personal that way. Whee, I'm excited na!! I told you,
OTH is really taking over the world!
I mean, what are the chances that our CLE teacher would watch my all-time favorite show and have such an awesome idea for a project?! God is so good to me. =)
We practically did nothing yesterday, it was like an unofficial free day, since we didn't discuss any lessons and we had a special schedule because of the First Friday Mass, so basically it was perfect for catching up and making kwento. Have you ever had that feeling of sharing something really personal and being so surprised that there's someone who can relate? Well, that's how I felt yesterday with all the stories I shared with my friends *wink* and promise, it's soo fun! It's the best conversation ever. Haha. Then during Algeb class, we watched the live performance of Pull Out Regular but didn't finish since it was already time. Darn. But shoutouts to
Teamago
especially to their vocalist
Raissa
and their dancer
Nikki
!! Taralets! =) Jen and I had fun during English too since we talked about our favorite topic:
One Tree Hill
, and of course our husbands. Lucas for Jen, and Nathan for me. Perfect =) I wish everyday was like yesterday, yung walang ginagawa. It's fun to be in school but still be on vacation-mode somehow. Haha.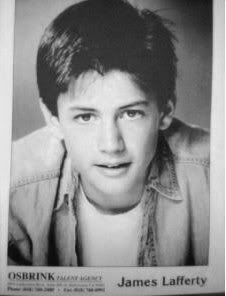 Look at my husband.
Grabe, he's so cuuuute! ♥
I so love him talaga.



Bethany Joy and James.
They look so good together! HEHE =)

Wow, dame ko nasabi ah. And that's just from two days of classes. Hyper lahat eh! =) I'm on LSS with
"City of Devils"
by Yellowcard again. I don't know why, maybe because I'm back at school -- the real city of devils. HAHA. Just kidding. Okay, enough chitchat, you're probably tired by the time you reach this part, so I guess I'll be saying bye-bye now. It's the weekend already! Vacation again, yeheyy! Though I'm not going out today since I'm in pain -- some
"friend"
decided to visit me today and now I can't stand and I can't move. HAYY. Sometimes, I just want to be a boy na lang! Haha. Take care, y'all.
Ciao.
♥
________________________________________________________________
felice nuovo l'anno!!
Happy New Year, everyone! After the jumping, screaming, shouting, firecracking (HAHA) and eating.. I hope you all welcomed 2007 with complete body parts. =) The year 2006 has indeed been a rollercoaster ride for me, with lots of drama and surprises. But I'm glad I survived it all, and now here I am facing a new year with new hopes, dreams and soap opera-ish events. And of course, with this time of the year comes the dreaded new year's resolution. I can still remember mine a year ago: to be like Haley. And how do I fare on my Haley scale? Well, I don't know, but I'm sure I could've done better. I know there were times when I became as bitchy as Brooke or as selfish as Peyton.. hehe. Hey, nobody's perfect, right? But at least there's still room for improvement.. so I think I'm going to keep that resolution. And aside from that, I'm really going to try to be a better person in almost every way I can. Oh, and yeah I'm gonna try to shed off some pounds.. God, I'm so fat already!! Have you seen me lately?! Well, well, so much for year of the pig.

I've changed my layout by the way, in case you haven't noticed. And yes, I made this one on my own! Yeheyy! It's been too long, and though I love the layout from BlogSkins, I think it blocked my thoughts. I mean, have you read my previous posts? Lame-o. Well, I hope this layout will hopefully bring some positive changes. I made this one from scrap, as in from zero. As all of you may know, I'm still using my dad's old laptop. No Adobe, no FrontPage (hey I'm not perfect!), no Nokia PC Suite, no CD drive, only one USB drive (for the printer) and it's very, very slow. So this layout is practically a miracle! Haha. Back to the basics I guess. Anyway, while waiting for this very slow computer to load, I amused myself by reading my tita's Italian phrase book and dictionary, and I got the idea of using Italian words for my nav box. So, that explains the weird syllables you can see on your left. Haha. But the title of this layout, Amo Ergo Sum is actually Latin for I love therefore I am, which I got from Gossip Girl. I think Rene Descartes should seriously consider that philosophy. =)

Speaking of foreign words, I love the Italian translation of Bombastarr: La Bomba Stella. NICE, right? It sounds so classy and sophisticated. I'd love to learn how to speak Italian or French one day. They're such wonderful languages, don't you think? When I watch the Italian or French channels on cable (out of boredom) I enjoy listening to how the words are pronounced. They have a beautiful sound, don't you agree? It's like the words always flow gracefully in their language. Hmm. One day, I shall be able to go to conquer Europe! Fare l'entrata per La Bomba Stella!

Anyway, I just got home from my coffee date at Starbucks with my two Kuyas and tita. I had a Peppermint Mocha (take note: decaf, non-fat and no whipped cream. I really am determined to lose weight!) and boy, was it delicious! It's my new favorite, actually. It's not too strong, and it's got the perfect minty-bittersweet taste. Highly recommended. I've moved on from my addiction from Mocha Valencia.. Peppermint Mocha is LOVE! =) Thank God for coffee, it's one of the things that keep me sane. It's my drug. I'm a coffee junkie. Yeaaah. Without it, I'd most probably be in a mental asylum, right now -- HAHA. Oh and by the way, I already have the 2007 Starbucks Planner! Add in my OTH Calendar which I got from Christmas (yes, it's the real thing straight from the States!!), 2007 just got a lot better.

I really, really, really wish that this year will bring me lots of smiles and happiness! And the genuine kind. I know it's very cliche, but I just really want to feel fulfilled. I'm tired of being yanked out of stable ground just when things are starting to fall into place. I hope this year will be filled with more laughs rather than tears. I hope I can really become the best person I can be. But more importantly, I hope I have the strength to be who I want to be. I want to be strong enough to assert myself, to say no to something I don't want, to express what I really feel and to do what I have to do. I pray you all have the strength as well, because I know we could all use a little courage inside us sometimes. Here's to a strong and blissful 2007: CHEERS!


"Here we go, life's waiting to begin."
________________________________________________________________